Regular price
$ 19.00 USD
Regular price
Sale price
$ 19.00 USD
Unit price
per
Sale
Sold out
Wool fleeced lined slipper in cable knit design w/tall cuff, assorted colors & sizes. These great solid color cable knit slippers are warm & practical. They are fully lined and unisex and REALLY cozy!!
Colorful slippers make a great gift for friends or family. Most of Ganesh Himal's knit items are knit by women in their homes while their children are in school. Organized into small neighborhood groups, one woman is elected as a team leader. The team leader picks up the pre dyed wool and delivers the wool and orders weekly. She then will pick up the finished product and deliver them to the main office. Once at the main office they do the finishing, lining and final quality control.
For Nepali women it is vital to be able to work in their homes while caring for their children and at the same time gain a fair income. This income gives them a larger voice in their homes and allows many to keep their children in school.
Fair Trade and Handmade in Nepal.
Share
View full details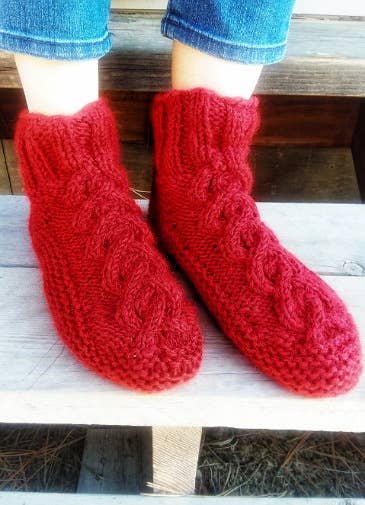 A Fair Trade product brought to you by World Peaces
because peace is something we create together
thanks to you